NES Assets Workshop: NAW
A downloadable graphics editor for Windows
Make your art on the PC, see it on the NES!

NAW is a tool that enables the creation of art ready for use with NES development. Meant for artists, it imposes all NES limitations and gives you a WISIWYG workflow.
You can export the screen created into a small working NES ROM at the click of a single button.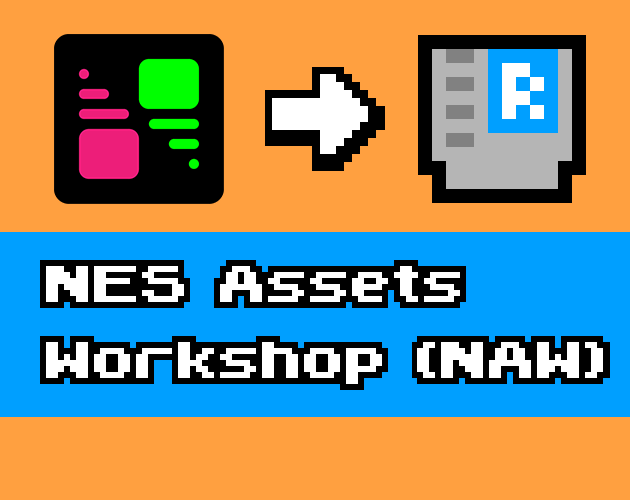 New in v0.108d:
Big new features:
Free Draw mode! When on, drawing with the pen over the nametable will automatically generate unique CHR tiles so you can freely draw with no tile repetition.
Multi Tile Swap! Added the ability to swap multiple tiles at once on the CHR page and on the Nametable.
Palette module! ("Lut". partial, doesn't save yet) Edit the system palette's 24-bit RGB values for each color. Reminder: not compatible with NES in general as the NES palette is not configurable, but this feature is provided for general pixel art usage since you can export PNG images with the fantasy colors.
Improvements:
Can now place sprites in the OAM module by selecting first on the CHR page and then clicking on the screen area (no need to drag)
Can now also import a PPU dump file from Nintendulator
Better visuals for system palette color selection
Now the CHR selection is maintained when changing sprite size
Key features:
NES based workflow: tilemaps (nametables), indexed colors (palettes), tilesets (CHR pages). What you do is automatically what the NES can do.

Sprites editor! Add, delete, move and flip all sprites on the screen, in 8x8 and 8x16 modes.
Draw directly in the sprites layer in 8x8 mode (must start from all empty sprites).
A simple tutorial project is loaded as default at startup. You may turn this off in preferences or replace the project file in NAW's folder with a project of your choosing (bins\SampleProj-001.naw).
Write tool! Assign tiles to keys and then just type away! Supports cursor movement, setting a rectangle area, and loading/saving tbl files.
Sprite overflow simulation and flicker simulation!
Copy and paste bitmap data to and from other programs using the clipboard! Whenever the image has more than 4 colors, NAW will automatically reduce the color count.
Draw with pencil on CHRs or directly on nametables, with live update of every instance of the edited tile.
Load PNG images for reference.

Support for NESMaker BMP files (import/export)!
Planned features:
8x8 background attributes mode.
CHR banks management.
Metasprites editor and management.
Metasprite animation editor and management.
Metatiles editor and management.
Metatile based level editor.
CHR animation with preview.
CRT shader preview, overscan and aspect ratio.
Palette cycle animation preview.
Scanline tricks preview.
Linux and Mac builds.
And more!
The ultimate goal is to make NAW a central place to manage all of the visual art assets on a NES development project.
The philosophy behind NAW is to bridge the gap between artists and coders, while using established NES development art asset formats and nomenclatures.
Workflow for artists, output for coders!
Download
Click download now to get access to the following files: